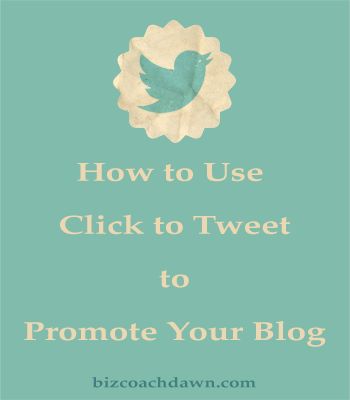 Click to Tweet is a Twitter marketing tool that lets people tweet the exact text you want them to share on Twitter. A number of bloggers, including myself, use it on a regular basis, and find it very handy. The problem is that not everyone uses it the right way, so they're not getting the maximum bang for their effort.
Click to Tweet Directions: Good News, Bad News
On the Click to Tweet website, it tells you 'here's how it works':
Write the message you want to share in the box
Click the 'generate' button to create a custom link
Share the link
Sounds easy enough right? And it is. If you follow those directions, you certainly will get a custom link that others can share on Twitter, just like they said. That's the good news.
The bad news is that unless you specifically include both a link back to your blog and your @twittername, no one will know that the tweet originated with you.
Same Tweet, Different Impact
Let's suppose I want to promote this post. I go to Click to Tweet and type in the title 'How to use Click to Tweet to promote your blog' and then hit 'generate link', like this.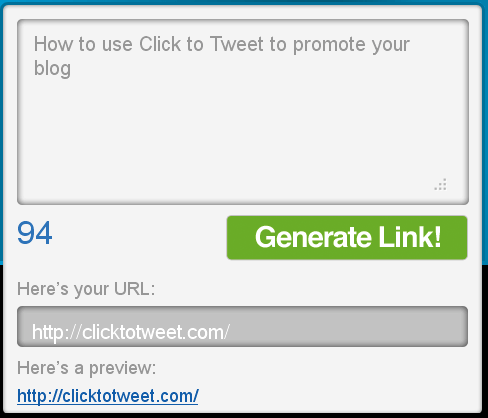 After I generate the link and preview it, the resulting tweet will look like this:

Whoever follows my suggestion to 'Tweet This' will be tweeting 'How to use Click to Tweet to promote your blog' and nothing else. The tweet won't make any sense because it doesn't link to anything, and I won't get the credit for blogging about it. Not good.
OK, Let's Try This Again
My goal as a blogger is to provide valuable content to my audience. For obvious reasons, I also want them to know where it's coming from. So the best way for me to do that with Click to Tweet is to brand my content and make sure it leads right back to this post.
Two more steps will complete the job.
First I'll need the short URL to my published blog post. Note I said published. This part is really important, otherwise my link will point to the draft version, which will result in a 'page not found' after it's published.  The WordPress short URL can be found at the end of the permalink where it says 'get shortlink'.

Second, I need to include my Twitter name @bizcoachdawn in the copy. You can add a few hashtags too for good measure.
Now when I go to Click to Tweet, I'll enter this information: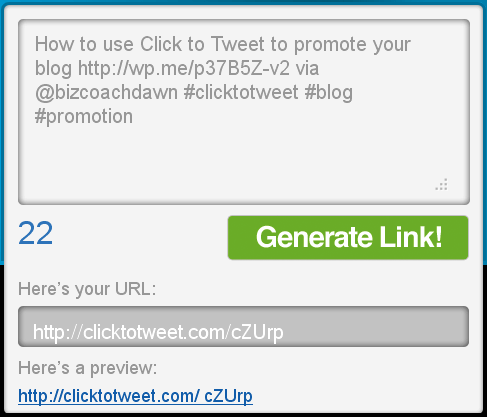 And the tweet others will share will look like this:

That's it! Now can you do me a favor? Tweet This OK? Thanks!
Have you used Click to Tweet? What do you think of it? I'd love to hear about your experience.

Shared by [googleplusauthor]