How to I wonder ….
Pinterest is a great platform for promoting your brand. But there's a lot to learn, and many of the practical things you might wonder how to do are not immediately obvious. Worse yet, the information you want can't always be found quickly or easily.
I've searched everywhere for a comprehensive Pinterest 'how to' guide that focuses on those small but important details, with no luck. So I'm trying my hand at one now, hoping you'll find it helpful.
Like many others who use Pinterest for business, I had lots of questions. This is Part One of my Ultimate Pinterest 'How To' Guide for Business Owners.
The Long & Short of 'How to' do 20 Simple Tasks in Pinterest
How to add a 'pin it' button to your browser
For most browsers, go to the goodies page on Pinterest. Look for 'The Pin Button'. Drag it to your bookmarks bar (at the top of your browser page) to install it. To add it in Chrome, go to this page. For iPhone & iPad, go here. To install it in IE , watch this video. Whenever you discover something great to pin on any website, simply click the 'Pin It' button and you're good to go.
How to edit or delete a pin
Mouse over the pin you want to edit. On the right side, look for the pencil icon. Click it to open the 'Edit Pin' screen. There you can change the board it's on, or modify the description. If you changed the location on a link you uploaded from your own site, you can edit the source URL as well. You can delete a pin from a board by clicking 'delete pin' in the same edit screen. Images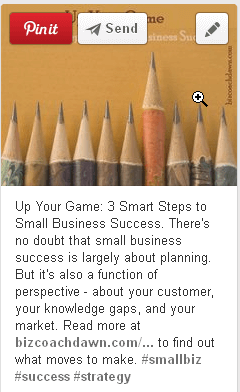 How to rearrange your boards
Click on your name at the top of your Pinterest (look in the upper right hand corner). From the drop down list, choose 'Your Profile and Pins'. Nothing will appear to happen, but you will be able to change the order by using your mouse (mouse over the board, left click and hold the cursor down to drag it somewhere else). Pinterest will save the new order you've created. If you run into trouble, read the instructions here. FYI: You can't rearrange individual pins on a board.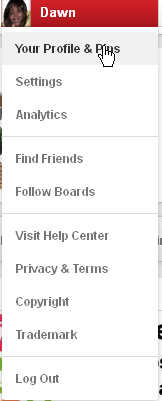 How to set a board cover
First, mouse over the board in question. You will see 'set board cover'. Click that to select a different pin to be the cover for that board. Use the right arrow to systematically choose the one you want by previewing the thumbnail. Use the left arrow to go back through the pins as necessary. Hit 'save changes' and you're done. Do this periodically with all of your boards to keep your Pinterest profile fresh.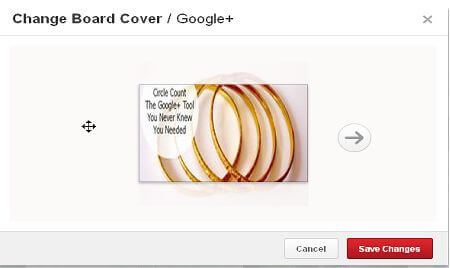 How to pin images from Facebook
First go to this page to download the Pinterest browser extension for Firefox. Look for 'The Pin Button'. Make sure the image with the red and white Pinterest icon is the one that is showing. If you don't see it, click on the link that says 'Looking for the Pinterest Browser Extension?' For Chrome, go here, for Safari here,  or watch this video to install it in IE.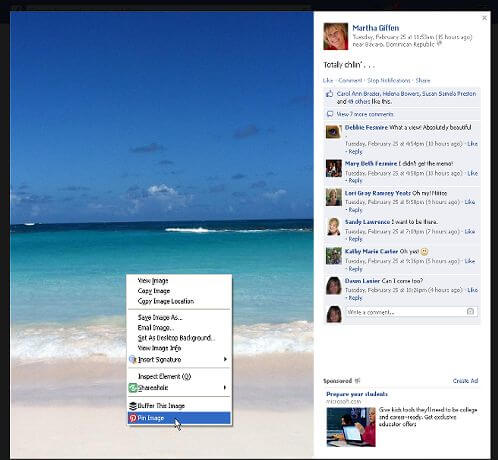 Then click on the image you want to pin while inside Facebook. You'll come to a screen where the image is isolated against a black background. Right click on the image with your mouse to see the Pin It button, click on it, and you'll be able to pin the image from Facebook to Pinterest. FYI: If you simply click the Pinterest icon installed in your browser, it will tell you that you cannot pin directly from Facebook.
How to verify your website
You can show other pinners you are a trusted source by verifying your website on Pinterest. Go to your profile and click on the edit pencil in the top section with your picture. On the next screen, enter the URL of your site where it says 'website'. Then hit 'verify'. Follow the directions on the next page, which requires you to download a file from Pinterest and upload that file to your server. Once that's done, hit 'complete verification'. Assuming you did everything correctly, a check mark will show right after your site link. You can read more about this process in my earlier post 4 Steps to Getting Verified by Pinterest.

How to tag, mention or give credit to other pinners
Add the "@" sign and their name (or Pinterest user name) to your pin descriptions or in your comments. if they follow you, their name and image will appear as you type. If not, you may need to locate their Pinterest user name (try their site and look for the social icon URL) and use that one.
How to create an online shop
Start a 'My Store' board (or something similar). Upload the items you have for sale to that board, making sure to add a '$' sign to the price, along with a description. Link each item to the specific URL where the item(s) can be immediately purchased. Avoid just linking to your website home page or the main page for website store. You will end up with multiple links all going to the same place, which Pinterest may consider spamming.
How to showcase your own work
Start a board exclusively dedicated to your best blog posts and pin them to this board. Make sure you brand your images, and have a summary description for each one. If you contribute to other boards where your posts will find an audience, repin them from your blog board to the other one(s).
How to get your pins featured on other boards
Accept invitations to pin to other group boards that attract your niche. Alternatively, if you find a group board you'd like to join, look for instructions in the board description about how to contact the board owner and ask. FYI: If the board is very active and/or has lots of pins, don't just ask 'can you add me to this board?' when commenting on an individual pin – the person in charge of invitations may not see it at all. Participating in a Facebook group that 'shares the love' on Pinterest is also an excellent way to give your pins greater exposure.
How to connect with pinners on other social platforms
Look in the profile section of the pinner for a link to where you can find them on Facebook and/or Twitter. If their site is verified (you'll see a check mark after it), go visit and see what other platforms that person is using. Drop them a note, send a tweet or even a private message to say you found and followed them on Pinterest, and suggest you connect on the other platform. You can find more about how to do that in this article.
How to find other pins from the same source
To the right of any Pinterest image is a picture of the board it is pinned to, and a picture below that which says 'More from XYZ site'. Click on that to see other pins that originated from the same website or author.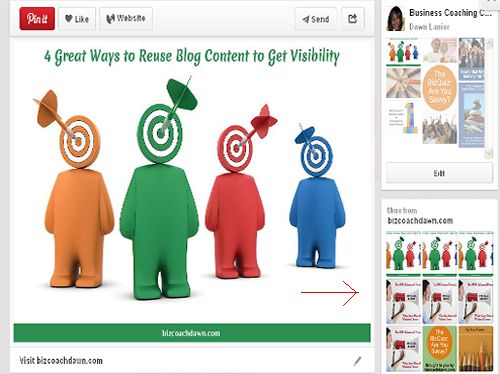 How to find out what's recently been pinned from your website
Type http://pinterest.com/source/yourdomain.com (replacing "yourdomain.com" with your own site URL) to see the list.
How to add a video pin
You have two options here: either use the Pinterest 'Pin It' social share button on sites like Dailymotion, TED, YouTube, and Vimeo, or open your Pinterest and click on the '+' button on the top. Choose 'add from a website'. Then simply type in the URL to the video you want to pin. PS – you can copy/paste the URL if you prefer.

How to find specific kinds of pins to repin
The easiest way to do this is to use the 'search' feature in Pinterest. Just type in your keyword(s) to see a range of pins on that topic. The more specific you are in your search definition, the better your results will be. Alternatively, you can search other platforms like Twitter, Google+, LinkedIn or Facebook for 'Pinterest pin+your search term' pins posted on other venues.
How to brand your pins
This is simply a matter of adding your name or your website to an image you pin. You can open the image in any image editor and use the text tool to do this or use a free online image editor like PicMonkey for the same purpose. Save the image to your computer, feature it on your blog then pin it to Pinterest.
How to create a group board
Pinterest gives you the 'create a board' option by default. Click on the '+' sign to open the 'create a board' screen. Name the board, give it a description, choose a category for it, and select whether you want to add a map to the board or use it temporarily as a secret board visible only to you. The new board will be what you see next. Click 'edit board'. The last option is 'who can pin'. Type in the name(s) or email address of anyone you want to allow to pin to it and click 'send invite'. When you're done with your list of potential contributors, save your changes.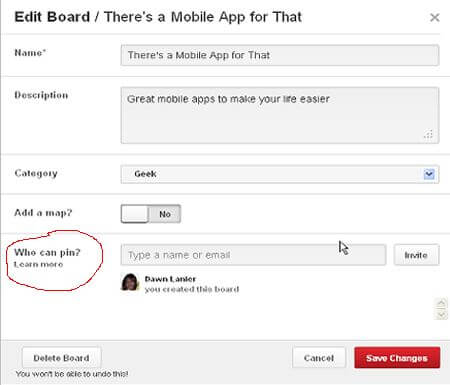 How to create a secret board
Follow the steps outlined above for 'create a board' and select 'secret' as the type of board you want it to be. When you've added a sufficient number of pins and you're ready to have it visible to anyone, go back to the board, click 'edit' and change the 'secret' status from yes to no.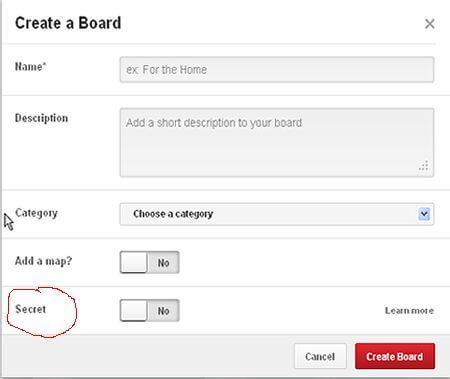 How to remove someone as a board contributor
Now and again things don't work out with someone you chose to contribute to your board. If you can't come to terms about changes that need to be made, remove them. Select the board and 'edit board'. You will see the list of contributors under 'who can pin'. Look for the person's name and hit 'remove'.
How to set up email notifications
You'll want notifications to find out who is pinning your content, and how often it is getting attention. Click on the bar with your name and image in the upper right hand corner of your Pinterest screen. From the drop-down list, choose 'settings'. On your account settings page, scroll down to 'email notifications'. Decide which options you want (get an email when …, also get an email when …etc).  Save your setting when you're done.

That's it for my first installment of the Ultimate Pinterest 'How To' Guide. Look for more tips in the coming weeks. Of course, it would be great if you followed me on Pinterest. I'm glad to follow back 🙂
Do you have any practical tips or tricks on how you navigate Pinterest? Let me know in the comments. Oh – and don't forget to share this if you liked it!