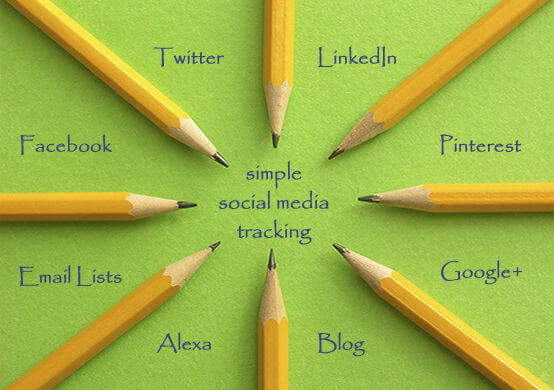 I'm a fan of simple – my life is complicated enough. I'm a fan of social media – it's a necessity, and sometimes a lot of fun. I'm a fan of tracking progress, which is part of what I do as a business coach. So it only makes sense that I'd be a big fan of simple social media tracking, if there was such a thing.
I know. The words 'simple social media tracking' don't even sound like they belong in the same sentence. There's really nothing simple about social media, and tracking it is, well, a whole other thing.
But it's important because of one essential fact:
Being active on social media brings you visibility, but it won't bring you business until you figure out what consistently works for your audience.
Without that knowledge, there's very little hope of turning a social media connection into a paying customer. And the work you put into networking starts feeling like the old saying 'I shot an arrow into the air. Where it landed, I know not where'.
The problem with tracking social media progress
As business owners we spend a lot of time on social media, trying to get attention from our peers and engaging potential followers. It's why we put so much effort into tweeting this, posting that, connecting here, and pinning there. Plus all that commenting, liking and sharing.
It's enough to make your head spin.
The problem is there's just so much to keep track of, that it's hard to measure your social media progress in any meaningful way. Or to know (off hand) what specific kind of content is generating the best results for your business.
The more active you are, the more complicated it gets. In no time at all, you're asking yourself a bunch of questions:
Did I post this already?
Was that on Facebook, Twitter or LinkedIn?
Did anyone respond? Were there any comments? Was it shared?
Did it result in a new fan, connection, follower, list member or customer?
You get the idea. You need a tool. Something you can download, keep and edit, that lets you see the bigger picture, based on all your activity.
The Simple Social Media Tracking Workbook
After searching through a sea of social media monitoring tools, I realized that none of them tracked everything the way I had in mind. So I created the Simple Social Media Tracking Workbook, an Excel spreadsheet that:
Makes it easy to see how you're doing across all your social networks
Keeps track of your blog posts and the feedback you're getting on your site
Helps you analyze what's happening on your Facebook Fan page
Allows you to review changes in your Alexa rankings over time and
Organizes the information all in one place
It includes worksheets for Social Media & Alexa Tracking by the numbers (there are pages for each month), Blogging Insights, Facebook Insights and Mailing list tracking for all of 2013.  And don't worry – I've kept it easy – the only thing you need to do is fill in your information. You can even save a clean copy for future years, so it will always be handy.
As you get in the habit of tracking your social media progress, you'll be able to tell, at a glance
how quickly you're growing your audience
how much your visibility is improving
which content of yours is getting the most traction
how competitive your blog is globally, in your native country and your local area
which of your mailing lists are getting larger and which ones need to be dropped or consolidated
when it's time revisit a successful campaign with a different group or a new twist
where you need to pump up the volume, and invest in new tools to fast track your success
The more you pay attention to these details, the better you'll understand what your customers want and enjoy. That makes it easier to decide what your next social media steps should be, and create plans to put them in the water.
They say in the movie Eat, Pray, Love that if you want to get to the Castle, you have to swim to the moat. The Simple Social Media Tracking Workbook gives you a straight path to the moat. So give it a try. It's easy, it's free and it works.
Want a copy? Be my guest. All you have to do is download it now.
By the way, if you think other business owners will find it helpful, I'm glad to have you pass the word. You can also share your feedback below.

By Dawn Lanier

Pin It
The following two tabs change content below.
I am a small business success coach and mobile app developer. I help my clients leverage cutting edge technologies to get and keep more customers.
Latest posts by Dawn Lanier (see all)