Say YES to Your Small Business Success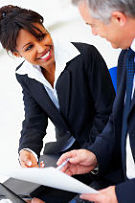 You know you're ready to say yes to your success when you find yourself actively looking for ways to bring it closer to your door.
Like figuring out how to use the Internet and social media to build your brand, grow your small business and create that ongoing stream of continuous income you keep hearing about.
Like knowing how to pull your followers from one social media platform to another and another, to improve your chances of turning them into a customer.
Or how to connect what you do for your small business offline, with what you do for it online, so you have success in both areas.
If you could do all that successfully, and you acted on what you learned, the entire landscape of what is possible for you, your life and your business would change. You would truly be at the next level.
Need a compelling reason (and a little motivation) to get your online mojo working sooner rather than later? Consider this tidbit from the Kelsey Group:
No matter how you cut it and slice it, that's a LOT of people in your own back yard (as in customers) who are looking to do business with someone just like you.
Umm …  makes you wonder how different your life would be today if you already knew how to use the Internet to:
~ Find them
~ Attract them
~ Start a conversation with them
~ Earn their trust
~ Get them to buy from you
~ Get them to KEEP buying from you
– Create strategic partnerships
– Establish authority in your niche
~ Build wealth
Sounds good, doesn't it? It should, because it's well within your reach. Especially if you have a coach by your side to give you perspective, guide your efforts, save you eons of time and cheer you on. Not to mention readily share the secrets of what to do, how to do it, and why 😉
I'm not just saying this either. I've had the good fortune of working with some phenomenal business coaches over the years, and I am much better off for the experience too. You see,
My mentors were all net savvy, so they understood the value of developing online relationships.
They knew where to find and how to use the latest tools that let you work smarter, and not harder
They had 'been there and done that' so I could avoid their mistakes.
They knew how to listen, both to what was said, and what wasn't. And they had no problem seeing the forest for the trees. That kept me on my toes, and motivated to do my best.
But most of all, they taught me how to see the 'bigger picture',  and to know how do-able it is to create your own success. The confidence that gave me, and the insights I gained have guided me to this day.Because of them, I'm a better coach.
So my question to you is this: are you ready to create your own success, do those extraordinary things on the 'Bucket List' for your business, and find your online voice?
If the answer is YES, then don't wait – shorten your learning curve, work smarter and quickly move from where you are now to where you want to be with one of my coaching opportunities:
The Fast Track Strategy Session
Next Level Coaching for Small Business Success
PS – If you're using Pinterest to boost your small business success, be sure to visit Pin Finder while you're here.
Dawn