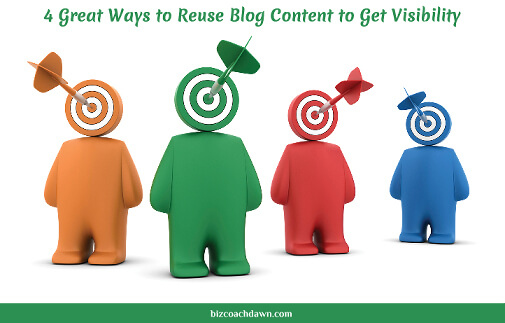 Great blog content informs, engages and says hello in a way that encourages people to come back for more – more information, more perspective, and more you. It's the magnet that can draw repeated attention to you and your brand, making it a valuable marketing tool for your business.
Creating blog content also takes up a lot of time – to outline an idea, find the right words, frame a concept, and tell the story (in short) from beginning to end. In other words, it's work. Good work that merits being used again, in order to reach your broader audience.
Those of us who spend our days on social media tend to forget that everyone in our niche doesn't routinely hang out on Facebook. They're looking (and finding) other ways to learn, by reading articles, listening to podcasts, studying ebooks, watching videos and attending webinars that focus on what they want to know.
So what should you do about that? Give them what they want, the way they want it. If you re-purpose your blog content by putting it into different formats, that content will be seen by more people, and give your business greater visibility.
Four Ways to Reuse Your Blog Content to Build Your Brand
Turn your blog content into an article. Rewrite your post and submit it to a reputable article directory along with an author box that has information about you and a link back to your website. As a general rule, most directories expect an article of 600-800 words. However, the word count can vary between 400 and 1500 words, so you need to follow the guidelines set by the publisher.
Tip: Google article directories and/or ask around for the best ones to use for your type or re-worked blog content. Read featured articles to get the lay of the land, check the submission requirements, and decide whether it's a good fit for you. Narrow your selections to 2 or 3 directories that are likely to appeal to your niche.
Note: You always want to rewrite your blog content for any article submission. That way you continue to get 'credit' for your original work and you're not offering an exact duplicate, which will get you penalized by the search engines. Allow enough time for your post to get indexed before you submit your article.
Turn your blog content into a podcast. This is an idea whose time has come. Podcasts are very popular, especially among people who prefer to listen rather than read. Just look to the popularity of audio books to appreciate the demand for information delivered to the ear.
There are many tools available to convert your blog content into a podcast, depending on whether you want to be the 'voice' people hear or you're willing to entrust that job to 'near-human' characters.
They include Soundgecko, Podcast Generator, Podbean, Hipcast, Buzzsprout and iSpeech. Most of them are subscription plans available for a low monthly fee. If you're interested in free podcasting tools you can use with your blog content, you can find some of those options here.
Tip: To get the most benefit from creating audio content out of your blog posts, make sure the platform you choose allows you to generate a feed that is accessible via web or mobile device, lets people subscribe, and does not contain ads.
Turn your blog content into an ebook. If you've created a body of work that delves into different aspects of a particular niche topic, why not create an ebook that can be sold or downloaded as an enticement to join your mailing list?
You can make an ebook on your iPad with Blurb, format ebooks automatically for Amazon Kindle, Barnes & Noble 'Nook', or Apple iBook Store with the Ultimate Ebook Creator or create eBooks in the ePub, Kindle and Mobipocket formats from existing blog content with Zinepal, to give your readers more choices.
Tip: Be sure to brand your ebook with your business logo, website and social media links so that your audience can find and follow you on multiple platforms.
Turn your blog content into a video. Videos are hot. Millions of them are watched every day by countless people, young and old, looking to learn something new or be entertained. The combination of audio, video and graphics is now as familiar as breakfast, and viewers are hungry for more. Turning blog content into video form can easily open the door to a bigger audience.
Make no mistake – there's a real art to creating videos from scratch. Fortunately, there are also a number of great tools to make the job easier. Screencast, Vimeo, Animoto, YouTube Movie Maker and even Microsoft PowerPoint will all do the trick of delivering your blog content with video flair.
Tip: Use resources that output video in a format that you can upload YouTube. Create your own YouTube Chanel and publicize it on your website. Include a link to your video blog content in the author box of your articles, and in your social media posts to get maximum exposure.
Bonus Suggestion:
Turn your blog content into teachable moments using Google Hangouts, webinars, guest radio spots and other 'live' presentations where you can interact with people in your niche. Share what you've learned, invite easy conversation and open the floor to feedback.
Tip: Remember to close the discussion with an upsell – a paid product or service you offer that will give your listeners even more benefit. Include a link to your website or landing page to seal the deal.
Yup. Your blog content has lots of marketing potential that can go a long way towards growing your audience, building your authority and increasing your profits. Maybe all that time you spend blogging has a silver lining in it after all.
How are you reusing your blog content? What's been successful for you? Feel free to leave your comment below.


If you liked this article on reusing blog content by [googleplusauthor], you're welcome to Tweet This or share it using the social icons below.