Pin Finder for Pinterest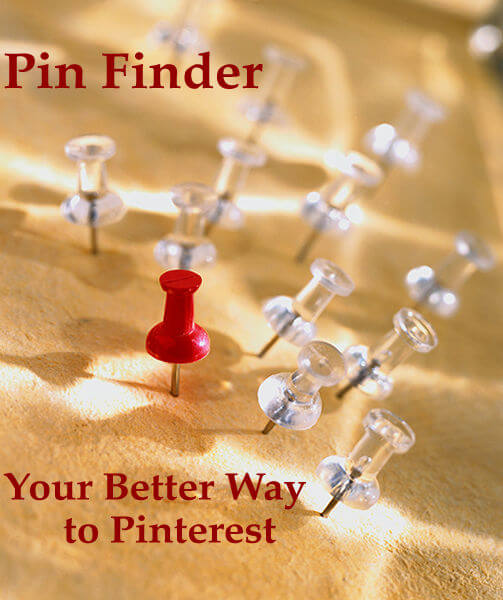 Pin Finder is a Pinterest-ing service for small business owners and solopreneurs who want to get ahead on Pinterest, and see profits resulting from their efforts.
We offer private consultations to make sure you're well positioned to succeed, and provide you with content, in the form of niche pins, that you can add to your boards.
With Pin Finder, you choose the level of service you want (just pins, just the consultation, or both) to bring positive attention to your brand. We then work with you on an individual basis, to help make that happen.
The word is already out that Pinterest is driving more traffic to websites and blogs than Twitter and LinkedIn combined, often with more immediate bottom line impact than any other spread the word campaign you could mention.
Smart business owners who truly 'get it' are already pinning away, building their audience, watching their numbers grow, and netting their share of the Pinterest pie. Armed with the right information and a strategy for moving forward, you can too.
Our goal is to facilitate that process, because we know the importance of being able to show when you feature yourself or your business on the world's 3rd largest social media network.
What is the real value of  Pin Finder

?

Pinterest is pretty, fun, and a great place to hang your business shingle, but understanding exactly how to use it doesn't always come easy.
Sure, you can attend webinars and read blog posts that give you the 'inside scoop' on Pinterest. But most of these only paint a general picture. You still have to figure out how to apply that information to your particular business, come up with a plan, and build it into your social media routine.
That stops a lot of business owners dead in their tracks, because it means fitting more work into an already busy schedule. So they get back to it, very slowly for the most part, and without much success.
For many, if they just had access to a service that could bring them up to speed quickly, show them how to make Pinterest work for them, and provide regular content to pin, a whole new world of opportunity would present itself.
Pin Finder for Pinterest, the first service to offer both Consultations and custom niche Pins for busy entrepreneurs, bridges that gap. It takes the time and the stress out of learning how to 'do' Pinterest, and keeps you in 'pin mode', even when you have other commitments.
Our mission is simple – we are here to:
Consult with you on strategies to promote your brand on Pinterest, and
Make sure you have a reliable source of pins that will resonate with your customers.
Do I honestly need help with Pinterest?
That depends. If you're clear about how to leverage Pinterest to your best advantage, have a reasonable flair for pinning and an efficient system in place for routinely adding fresh content, then probably not. If the opposite is true, or you're just getting started with Pinterest, it's entirely possible that you do.
Pinning for business has the same end goal that drives your involvement in other social media networks – to attract and land new customers.
But building your brand and creating a following on Pinterest brings with it a new twist – repins of your content, likes and comments (in that order) are what rule the day.
This is quite different from the 'mini-conversations' we use to connect with our niche on Facebook, Twitter, LinkedIn and Google+. On those platforms we rely on the written word to capture attention.
For your business to be in the best position on Pinterest, what you need is a steady supply of quality original pins for your boards, and lots of them:
Pins that link back to your blog/website where your products and services can be found
Pins of the 'news you can use' variety that inform and engage your niche
Pins that allow followers to connect with you more directly in other social media venues
Pins that inspire, motivate and show your sense of humor
Pins that highlight your outside interests in popular or useful categories
The down side is that it takes time to do all that pinning. It takes time to find quality, niche driven content, and to format pins so they're searchable. Unless you're an online research wizard who does a lot of bookmarking, it's pretty easy to get snowed in. Plus, once you start, you have to keep going, or risk becoming a non-entity on Pinterest.
But there's no reason to worry, because PinFinder gives you options. You can use our service to:
Learn how to best use Pinterest for your business
Add pins to your existing boards or new ones you plan to create
Receive suggestions for blog content you can later pin on Pinterest
Attract and engage your niche with fresh pins on a regular basis
Include pins/posting to Pinterest as part of your social media management offerings
What should do I do next?
Get the FAQs about PinFinder, find out why you can have confidence in choosing us as your value partner, and order some pins. You and your Pinterest boards will be glad you did.

By [googleplusauthor]