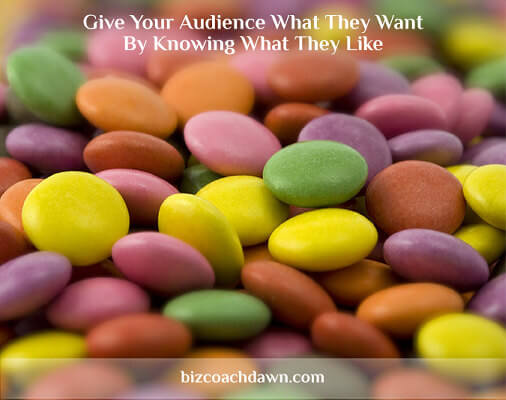 Audience is defined as a gathering of spectators or listeners; all those reached by printed matter or radio or TV; a regular public that manifests interest, support, enthusiasm, or the like; a following. As business owners, we're all familiar with the word. And for those of us using social media to attract new customers, audience is critical to our success.
Every 'guru' in the world will tell you that the key to growing your audience is to 'give them what they want'. Sounds simple enough right? But how do you know what your audience wants? The secret, I've found, is studying what they like.
Looking under the hood: What does your audience like?
It's actually not that hard to determine what your audience likes – you just need to do a little looking under the hood. Where exactly? Start with the usual suspects – the places where you communicate most often with your followers, fans and connections.
How do you define 'what they like'? By identifying what content of yours they comment on and share. In other words, analyze your blog and social media platforms to see what your audience is responding to. That will tell you what they like, so you can keep giving them what they want.
How to find what your audience is responding to on Facebook
Your Fan Page insights will reveal the story. Go to your Administrative Panel. Find and click on the tab that says 'See Insights'. If you haven't already explored Facebook's new insights, you'll see a message at the top of the page welcoming you to take the tour.


Just beneath the name of your page are various sections, including 'overview', 'likes', 'reach', 'visits' 'posts' and 'people'. Since your goal is to focus on the content that's resonating with your audience, click on 'posts'.


By default, you should be able to see all of your fan page posts for the past 3 months, broken down by date, content, content type, number of people reached (yellow), and engagement based on the number of post clicks (blue), and the number of likes, comments and shares (pink). You can also toggle these settings by clicking the down arrows to see (for example) reach based on fans/non-fans and engagement by just 'likes, comments and shares'.
How to analyze what your audience likes on Facebook
Toggle the 'engagement' options so what you see is 'likes comments and shares'. Then grab a pen and paper to make a list that looks something like this:
| | | | |
| --- | --- | --- | --- |
| Post Type | Likes | Comments | Shares |
Focus on the 'engagement' column to see what's really catching the eye of your audience. What you're looking for is your 10 most popular posts. Keep an eye out for the items with the widest bars as you scan through the information. As you take notes, you'll start to see trends, and be able to make some observations.
What my Insights told me about my Facebook Audience
Of my 'Top 10' in the last quarter, 3 were blog posts, 6 were images, and 1 was a quote. The blog posts that resonated the most with my audience were all of the 'how-to' variety. The most popular was The Ultimate Pinterest 'How to' Guide for Business Owners.


I've always been one to share graphical quotes. The one with the most shares was a compliment to anyone who read it. The one with the most likes was a personal Christmas greeting from the heart, seen by almost 3,000 people. The one with the most comments was pure cuteness.
By doing this exercise, I learned that 'how to' content is a big draw for my Facebook audience. If I paint a clear path to understanding, and give people information they need or want to know for their business, they appreciate and find value in it. Likewise, I discovered that images that bring a smile, share a compliment, or reflect a sentiment that people hold dear, tend to win your audience over.
This tells me what type of content I need to keep offering my Facebook fans to 'give them what they want'. Just like I found what works best for my audience, you will too when you do your own analysis using Facebook Insights.
How to find what your audience favors on your Blog
This is an easy no brainer for most bloggers. If you have a plugin that identifies your most popular posts, your top entries will be easy to find. Even if you don't use a 'popular post' plugin, you can always go to your 'posts' administrative panel and see which ones have the most comments.
Make a quick list of the posts where you got the most traction (purely by the numbers). Then look at them separately to see which ones got the most shares and the platforms they were shared on. That will help you zero in on the kind of blog content that is favored by your audience. Presumably you'll find a mix, so you'll be able to plan future posts around what you know works.
Locating the Pins your audience loves on Pinterest
This exercise is only worthwhile if you are actively using Pinterest to promote your brand. If your business focus is marketing, for example, but you've really only been pinning recipes, DIY tips and things that are purple, skip this. You won't be able to judge whether you're reaching your niche audience on Pinterest, let alone determine whether your content appeals to them.
When Pinterest first started, there were several of free tools, like the now defunct Pinpuff, that gave you metrics on the number of people following you, as well as your most popular boards and pins. Now they're either gone all together, or have transitioned into paid services for large brands who can afford to advertise to the enormous Pinterest audience.
That said, the rest of us are stuck having to do our own digging to find out what content we're pinning that appeals to our niche. As you'll see, Pinterest does not make this easy.
Searching for Pins from your Blog or Website on Pinterest
The best way to do this is to enter the URL http://pinterest.com/source/yourdomainURL in your browser window (use your own domain name of course). Pinterest will show you all the pins linking back to your site.
The good news is that you can see them. The bad news is that there's no 'count' to tell you how many total times a given piece of content got pinned. So instead of seeing one pin with a repin count of 25, you'll see the pin 25 times, and have to assume your audience liked it. Like I said, Pinterest does not make this easy.
Incidentally, the free Pinterest analytics tool is of little help here, since it focuses more on numbers instead of specific content. Even then, (unless I missed something) you can't get historical data on your pins if they're more than 3 months old.
With all the fanfare about Pinterest Analytics being so great for business, I have to say I'm a bit disappointed. However, being able to pull up the feed from your domain does give you a place to start.
Finding what else you've pinned that resonates with your Audience
Clearly we pin more content from other sources around the web than we pin our own. Depending on how you set up your notifications on Pinterest, (i.e. send me an email whenever someone likes or repins my content) there's still some hope tracking down what your audience likes. If you've been getting these notifications, you probably already have a sense of your most popular boards, and most popular pins.
Start with your most popular board – the likeliest one to have the most repins (people repin what they like, so it's safe to use repins as your main criteria). Look through the pins to see which ones appeal to your audience of followers. Make a quick list of the content titles and number of repins. Go to your next most popular board and do the same. Rinse, lather and repeat.
Note: Only look at boards where you are the sole pinner – not group boards unless you are the creator of the board and can easily identify your own pins. The goal is to identify popular content you've pinned with the intent of targeting your niche audience.
Be sure to include boards that feature your own blog content whether the board is popular or not. As with Facebook and your blog, studying what gets shared gives you a clearer sense of what to keep offering the people you most want to reach.

Discovering what works for your Audience on other platforms
Twitter: the easiest way to find your top retweets (if people like it, they'll retweet it) is to use Twitter search. Simply log into Twitter and enter 'RT@yourtwittername' (use your own handle) into the search box and hit 'enter'. Within a few seconds you'll see a list of your most popular tweets. Study what's there to determine what content your Twitter audience prefers. Offer more of that.
Google+:  Using this link  it's crazy easy to find your most shared content on Google+. Just enter your 21 digit Google+ ID and you're set. It will show you how many posts, 1+'s, shares and comments you have, plus your top posts. Look through, see what grabbed the attention of your Google+ audience and keep giving them more. Many thanks to Justin Matthews for this gem of a good find.
LinkedIn: I have yet to find a tool that identifies your most popular content on LinkedIn or an easy way to tell what your network connection might prefer. If you come across one, let me know.
However, following the steps above, at least you have a reasonable way to evaluate what content on your blog, Facebook, Pinterest, Twitter, and Google+ works best for your audience. Let this and your inner private eye lead you to more success on the platforms you use most for business!
So tell me, what ways have you tried to get the same information? Fill me in below 🙂  Oh – if you liked this, feel free to share …
Have a good one!
[googleplusauthor]