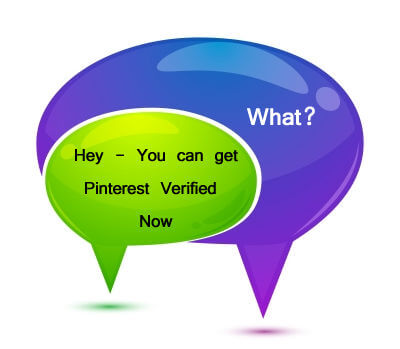 Did you know you can now get verified by Pinterest? As of October 26, 2012, the social media giant started giving brands and businesses the option to verify their website, which adds an extra level of 'cred' to your profile.
Those who click on your link will have real assurance that it's 'yours', and not some other site that doesn't belong to you, or is promoting someone or something else. Ultimately, this will reduce the number of bogus accounts, and more clearly identify legitimate business pinners.
Once you complete the process of having your site verified by Pinterest, a small red check mark appears next to it on your profile, for all to see. The site link turns red when someone mouses over it, which gives it more prominence. Here's what mine looked like after I did it:

This is great news if you have your own domain (www.yourwebsite.com) and you can upload the Pinterest verification HTML file directly to your server.
However, if you don't have your own domain, you're out of luck for the moment. With the exception of Tumblr, most other blogging platforms and eCommerce sites (like Blogger, wordpress.com, Etsy, Shopify, and eBay) don't allow you to upload files to their root servers.
At some point, other methods of getting verified by Pinterest are expected to be introduced, but so far, there aren't any hints as to when. Pinterest is open to suggestions on how to do this, so if you've got an idea, you can submit it here.
If you do own your domain, the verification steps are really very simple, and also fast. Here's what to do:
How to get Verified on Pinterest
1. Go to your Pinterest Profile and click on 'Settings' underneath your name and profile picture
2. In your 'Profile Info' section, scroll down to where it says 'website'. If you haven't added your website or blog, this is the time to enter it. Next to that information you should see 'verify website'. Click on the link.
3. Follow the instructions on the next page, which are to download the HTML file to your computer and then upload it to your web server. Make sure it is in your root directory, which will be in your public_html, www, or wwwroot folder, depending on your hosting provider.
4. Go back to your settings page and press the "Click here" link to verify your website. Pinterest will check your server right away for the file you just uploaded, and add a 'website verified' check to your settings.

If you are using Tumblr, follow these directions instead.
Viola! Now you're verified by Pinterest!
What do you think – is getting verified by Pinterest a good thing for brands and businesses? Share your thoughts below.

By [googleplusauthor]