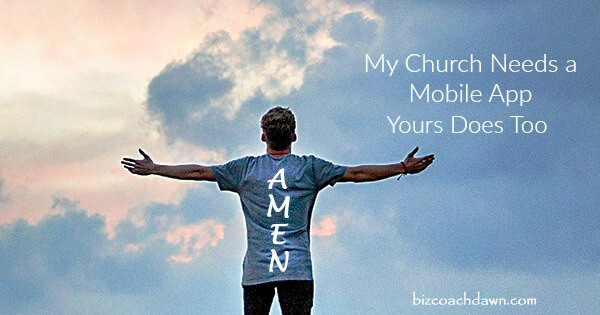 The last sermon I heard my Minister give was crazy powerful. Looking around, you could see heads nodding, smiles forming, and that collective 'so true!' moment spreading through the room. Everybody felt it, and it was good.
As we were leaving, it was obvious the sermon had created some 'buzz'. Our Minister hit the nail on the head (again), which he has a knack for doing. Someone said 'That was one of his best – too bad we can't save them, and listen later.' Hmmm … that's a good point.
Sometimes you need to hear or see a thing more than once for it to fully sink in. That's why we keep our favorite books and quotes and music and sayings and TED talks handy – to remind us of what resonates on a personal level, and adds value to our experience.
So why shouldn't sermons that strike a chord be part of that 'saving' experience? It's not that they couldn't be – especially if they're stored in a place (like on your phone) where we're guaranteed to find them. That's what made me realize that my Church needs a mobile app, and yours probably does too.

Why does my church need a mobile app?
If we had a mobile app, anyone who enjoyed a particular sermon could listen to it again, and those who (ahem …) missed the service could hear it too. Not attending Sunday service (or whatever day you worship) doesn't have to mean you forfeit the experience of Church anymore.
And let's face it – all congregations have people who don't go to Church (or Temple, Mosque, etc) every week, or even every other week. Think of the difference it would make if they could all stay connected to your Church family, regardless of where they are in the current moment.
In these times, an ongoing relationship with a power greater than ourselves is pretty important. We need the unity that praying together brings – the hug of common purpose, and shared community. I think that's why we go to Church anyway – to get these things, to give back and to tithe.
Mobile apps provide important benefits for Churches
There are a number of valuable reasons why my Church needs a mobile app, and yours does too. A study by Aware3 discovered that the average Church with a mobile app sees a 31.5% increase in online giving, and an average gift of $185. That could make a big difference.
Tithe.ly notes that having a mobile app for your Church gives your congregation the tools to donate directly on their phone. Mobile payments grew to a whopping $545 billion in 2015, (up from $30 billion in 2011), so there's no reason for Churches not to take advantage of this trend.
According to Localytics, apps are proven to deepen user engagement, increase social sharing and create repeat donors. As Churches look for easy tools and streamlined ways to reach larger groups of people, keep them connected, increase participation, and get more donations, a mobile app is a highly compatible all-in-one solution.
An app creates opportunities for you and your Congregation
An app makes it possible for your worshipers to:



Easily get involved with your ministries and special programs

Like, follow, connect and interact with you on social media

Share your social media content

Share your app with others

Receive notifications about upcoming events

Sign up for volunteer opportunities

Donate securely through their phone

Contact you by phone or email

Get directions to your door

Make Prayer requests

Listen to your audio or video sermons

Enjoy a picture gallery of recent activities they attended (or wanted to)

Download your app from the Apple or Google Play App Store (which is very today)
An app makes it possible for your Church to:


Have your sermons conveniently available 24/7

Stay in touch with your congregation (whether they attend services or not)

Send unlimited permission based 'push' notifications

Easily solicit help when you need it

Allow people to join your list

Collect mobile donations

Generate more participation in events and programs

Post to your social media channels

Engage your flock any day of the week

Highlight your Staff/Ministers/Ministries

Distribute your monthly newsletter in PDF format

Share your blog and/or podcast

Use modern technology to grow your following

And what's the most compelling reason?
89% of all mobile internet time is now spent using apps. This means that having a mobile app for your Church isn't just a cool thing to do – it's a necessary thing to do. After all, the one place you're practically guaranteed to reach most people is on their phone.
Considering the potential benefits, I'm more convinced than ever that my Church needs a mobile app – to keep us linked together, to reach a broader audience, and to provide an 'always available' space for us to gather. Like an 'on demand' channel for the soul, just a click away. Nice.
Personally, my first step is to have a proactive conversation with our Sr. Minister. Hopefully he'll feel the same way I do. Then I'd have the opportunity to pay it forward and develop a mobile app for my own Church. Cross your fingers – I'll keep you posted.
What are your thoughts? Is there a chance your Church needs a mobile app? Why not download a PDF copy of this post to share with them so they can make an informed decision? They'll probably appreciate it.
Did you find this post helpful? Your comments are welcome below. Of course, we'd sure appreciate your spreading the word about it on social media as well 🙂