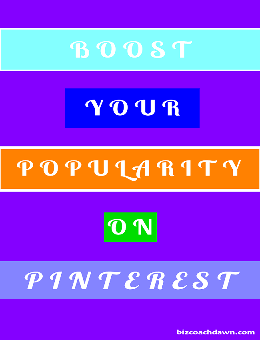 Pinterest is the place to be if you want to grow your blog following and expand your audience.
As a business owner, this means there are three important bases to cover if you want to boost your popularity on the platform.
First (of course) your blog posts have to hit the mark when it comes to appealing to your niche, and anyone else who can appreciate your content.
Second, you have to develop a knack for creating branded images that catch the eye so they pop on Pinterest.
Third, and most importantly, you'll want to develop a strategy that will increase your chances of getting noticed, and drive traffic back to your blog.


Pinterest Popularity: What it all means
Popularity on Pinterest doesn't come easy.  Even if you have a massive following on other social networks, making headway on the extremely visual platform of Pinterest is, well, a whole other thing.
Specifically, getting new people who don't know you from a hole in the head, to like, comment or repin your content takes a bit of ingenuity. We live in a social world where popularity is largely based on numbers, so we we've got to make sure our numbers are always growing.
The 'numbers' include the number of people following us personally (all of our boards), the number of people following our individual boards, and the number of repins we get for specific pins. The bigger your numbers, the more popular you'll become on Pinterest.
Looking at the 'big picture', it all boils down to what you're pinning, who you follow, when you pin, and how well you leverage your social network connections to spread the word about your activity on Pinterest.
8 Simple Strategies to Boost your Popularity on Pinterest
Make your pins pop

– use bright colors to stand out, go big on size (rectangular, up to 736 pixels wide; and longer in length). Choose a great title (I use the Headline Analyzer to help me with this) and create an image that draws attention.
Pin often – at different times of the day, several at a time, at least 3 times a week. Mix it up too – don't pin things all on the same subject, and be sure to pin other people's content in addition to your own. Remember the point is to inform and share 90 – 95% of the time, not to constantly sell. If everything you pin is pushing your products, your message will get old real fast, and most people won't buy.

Follow people who have pinned the same pin you did

to their boards. People who offer similar content also attract an audience that's comparable to yours. That's actually what you want, so don't hesitate to jump in and get noticed. Pinterest makes this easy by showing you a complimentary board (Also pinned to) right after you've added your pin. Just click on the 'see it now' button and follow that board (and person if you like) to expand your reach.
Follow boards that focus on topics you blog about. If you blog about Pinterest, for example, follow other Pinterest related boards. You'll learn new things, and your pins will show up in that person's stream. That will give them greater exposure, and increase your chances of getting your content repined. You'll pick up new followers as well.
Get your group on! Become an active participant in Facebook and LinkedIn groups where you can share your Pinterest links, gather new followers and support others. Join Google communities that let you do the same. The more people that see your pins the better off you'll be. Visibility brings you business.
Reach out – connect with your Pinterest followers across other social platforms. Follow them on Facebook, Twitter, LinkedIn and Google+. That will make it more likely that they'll pay closer attention to your pins. Invite people from those networks to also connect with you on Pinterest. It works to build your audience.
Start something new, like a community or group board where others can contribute. People appreciate being among the 'chosen' and to be given the opportunity to share their own work. This breeds loyalty and is a great way to pay it forward.
Be a contributor yourself. Add to the Pinterest conversation with posts you've written or discovered that bring value to your audience. Everybody likes a team player that always shows up with something good to offer.
I've increased my Pinterest following 10 fold since I started using these strategies. I'm sure you can too, so give it a try! And while I'm on the subject, you're welcome to follow me on Pinterest – I'll follow you back 🙂
Not sure how to put your best business foot forward on Pinterest? Let me show you how.
If you enjoyed this post, share it with your friends on Twitter, or any of the platforms below.
Do you have a particular strategy for getting new followers on Pinterest that really works? Comment and let me know – all ideas are welcome!

Shared by [googleplusauthor]