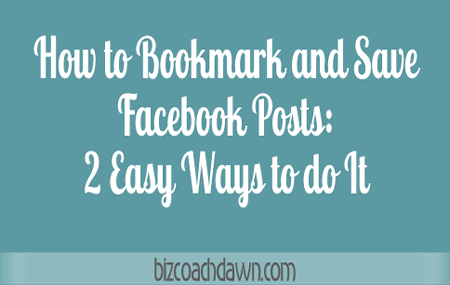 Have you ever read a great Facebook post that you wanted to bookmark and save for later? There are actually two ways to do it, and both of them are easy.
The method you choose depends on how and where you want to save the post – by using the built-in bookmark feature that comes with your browser, or by saving them within Facebook itself.
There are a few things to know in advance:
The option only applies to posts that have links, not to images or quotes
You can bookmark and save posts from Facebook pages and Facebook profiles
You can bookmark and save posts from your own page or profile as well
How to Bookmark and Save Facebook Posts Using your Browser
This is the simplest and most familiar approach. There are only 2 steps:
Find the Facebook post you want to bookmark and save, then click on the link that tells you the date and time it was shared. You'll find it just below the name of the person or page who published it.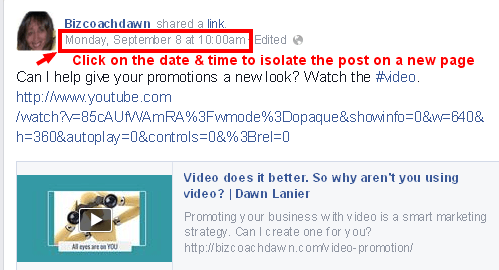 After you click on the date and time link, you'll be taken to a new page that features just that post and any comments people have made about it. You'll see the post URL at the top. All you need to do now is add it to your bookmarks and you're done!
TIP: Create separate folders for your bookmarks to keep them organized. If you bookmark often, this will save you tons of time. For example, instead of one main folder for all things Pinterest, make sub folders that represent the different types of content you pin.
How to Bookmark and Save Facebook Posts Inside of Facebook
This second method uses a new 'save' feature that has only been available a few months. Now you can actually save and bookmark Facebook posts on the Facebook platform. It's a little tricky to find, but once you know the secret, it's not hard at all. Here's how it works:
1) Find the post you want to bookmark and save.
2) To the right of the date and time link is (at least in Firefox) an invisible icon. If you use a different browser, you may see 3 dots ' . . .' or something similar instead.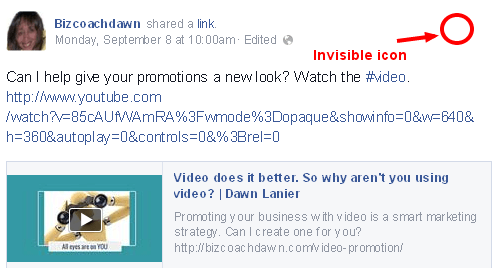 For those of you who've ever used the 'Pin to Top' feature, you'll find this one in the same place. You'll have to ask Facebook why they don't make it more obvious. Personally, I don't have a clue ….
3) Mouse over the area and left click on the icon to see the dropdown menu. One of your choices will be 'Save (post title)'. Click on that to save the post.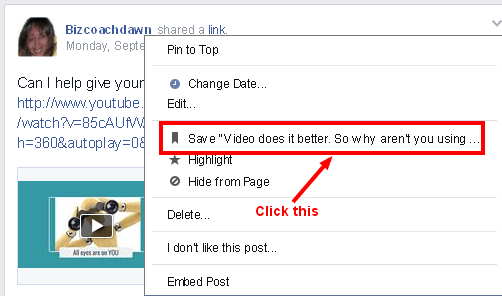 Two quick notes:
You will still be on the same page and it won't seem like you did anything, even though you did.
Your posts are saved under your profile.
4) To find your saved posts, click on 'home', which will take you to your feed.

6) Look for the 'saved' link.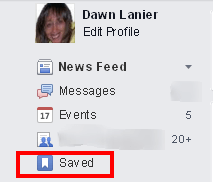 Once you click on the link, you'll find the items you've bookmarked and saved on Facebook.
Piece of cake right? Told you it was easy 🙂
So what do you think – now that you know how to bookmark and save Facebook posts, do you think you will?
PS – Many thanks to Danielle Vulpis of Respiratory & Sleep Solutions LLC who posted the question of how to do this on my Facebook page and inspired me to share this post with you.
Speaking of sharing, do me a favor and tweet this to your tribe. I've got a hunch Danielle and I aren't the only two people who wondered how this was done!
[Tweet "How to Bookmark and Save Facebook Posts – Two Really Easy Ways to Do It"]
Thanks much!
[googleplusauthor]