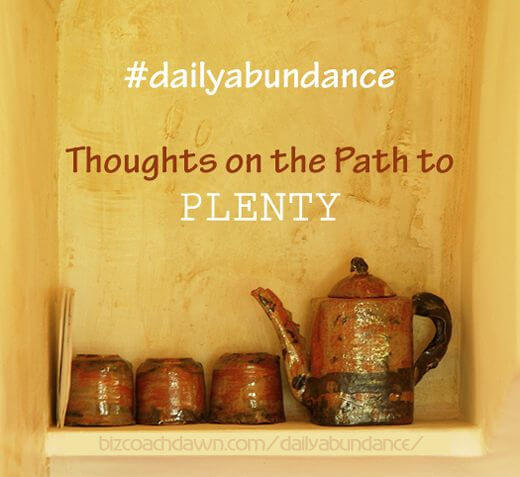 Quiet as it's kept, we're all looking to attract or create abundance in our lives; that place where everything we want or need is plentiful, and there is no lack.
Many things are on our abundance wish list – happiness, love, health, wisdom, money, friendship, fun, laughter and success, just to name a few. Of course there's more on the list, plenty more, if we let our imaginations run free.
The quest for abundance is about following a path. It is choosing to live in, and appreciate the fullness of your life. Replacing 'if' with 'when', expecting the rainbow, and knowing what could be already IS, but for the limiting beliefs you hold deep in your heart that no longer serve you.
And that's the rub – all those 'Yeah, but' thoughts that interfere with getting to abundance. We think about having it all, and we can even see the end result in our heads. But its like we're in a daydream, and often the feeling doesn't last. The reason why is because we question, if not doubt, whether we really deserve to have abundance in our lives.
Abundance is all about Giving
And do we? I guess that depends – on our mindset and our behavior. Do we 'do unto others', look for the good, live in harmony, help because we can, respect the Planet, or pay it forward? Do we nurture, show compassion or live with an attitude of gratitude?
The questions fit because to receive abundance, you have to give; not to yourself, but of yourself. To receive abundance you have to accept you were born to be great, and you are here to contribute your best. And you have to know that your best is enough, even if you can improve on it.
Abundance is a feeling in the moment that says 'I am full. I have plenty. And there is more'. To attract abundance, picture that feeling. Create that vision clearly in your mind, and know it is yours to claim. See it today, now, this minute, in the present tense; not off in the distant future.
Then go walk the path of that person who is happy and blessed and thankful. It doesn't matter whether you take baby steps, first for a minute, then an hour, then a day. What matters is that you carry the feeling with you everywhere, and spread your joy. Abundance will find you when you trust it is there.
#dailyabundance is a series of thoughts on the path to Plenty. This entry is the very first. If you're trying to attract more, and a daily dose of inspiration will help, follow #dailyabundance here and on Pinterest.
Did this post resonate with you? Then Tweet This and share it!
What are your thoughts on finding abundance? How do you create it in your life? I welcome your comments.
Written By [googleplusauthor]