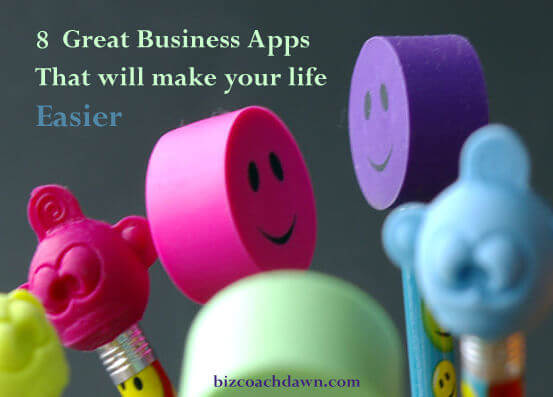 I don't know about you, but I'm always on the hunt for great business apps that make my life easier. After all, I do have a ton of things to do every day, so anything that can help me breeze through my work and/or keep my precious content safe, has definitely got my vote.
Here are a handful of great business apps that you'll be glad to add to your arsenal of practical tools that are easy to use and free.
1) Do you know who was on your site today?
There's a small army of website monitoring tools, but when you want to know what's happening with site visitors in real time, your best bet is StatCounter. All it takes is adding a few lines of code to customize your stat counter or turn it into an invisible tracker and you are good to go. You can immediately see who's coming to visit, from where, what pages they visited, their demographics, referring links and more.
Far more interesting to read than traffic analyzers provided by hosting companies, and less complicated than Google Analytics. Plus you can try the demo before you sign up, and get reports sent to you by email. As business apps go, this one is both handy and user friendly.
2)

Is it taking you forever to create the 'perfect' video?
You would think that with the millions of videos on YouTube, video creation is a snap. And it is, if all you're doing is talking through a microphone and using a webcam. But what if you want to include images, music clips, or screen shots?
Suppose you want to record for 45 minutes, or add a slide presentation or draw on the page? Then you need something more robust, like Ezvid, the screen recorder and video editor, to help you get the job done. Windows only. Even if you aren't creating videos now, you should save this business app in your bookmarks for later.
3)

How many characters is that exactly?
Even if you're pretty good about keeping your posts short, chances are you can't just 'eyeball' a sentence or paragraph and know how many characters it has. They say that on Facebook, a post with about 75 characters gets a good response. On Twitter, you're limited to 140, but 120 is better.
Well, if you'd rather know in advance if you're hitting the mark, the Online Character Count Tool is your app of choice. Just type in your words and get your count instantly. Crazy easy.
4)

Need to put together a webinar?
Most small business owners find that planning a webinar involves a level of complexity they weren't quite expecting. Even if you have all your material together, you have to pick a delivery system, send out invitations, create registration forms, sell tickets if you're charging for it, promote it on social media, and so on.
If you need help with that, take a look at AnyMeeting, which has all the features I just mentioned, plus screen and application sharing, video conferencing, easy recording, integrated conference calling, and attendee follow up tools. Meet with up to 200 people at once in the free version, which is ad supported. This business app is recommended for all small businesses by American Express OPEN, Forbes, TechCrunch and VentureBeat, among others.
5) What if your computer crashes? Do you have a plan?
If you've ever had the experience of having your computer crash or your external hard drive fail on you (yes that does happen), then you remember that sinking feeling like all the blood was being drained out of your body, one 'OMG!' after another. Especially if that computer had all tour business files and documents. It's horrible. I mean really horrible.
CrashPlan makes it easy to back up your files to computers that belong to your friends or family for offsite backup, as well as to your own computers and external drives for onsite backup. It runs on PCs, Macs, Linux and Solaris computers, and lets you restore from any combination of operating systems. This business app is used by some of the best brands around, including Google, Cisco, Adobe, Netflix and ancestry.com, so you'll be in good company.
6) What about protecting your online data?
Where would you be if you somehow lost your social online data on sites like Facebook, Twitter, Gmail, Google Drive, Google Calendar, Google Sites, Google Contacts, Flickr, Picasa and Blogger? What's taken years to build might suddenly vanish, either through some error of your own or malicious activity. The provider might be able to find it (in all eventuality), but you'd be in a pickle.
Enter Backupify, the business app that protects your online data so you don't have to worry about this happening to you. there are several versions, including Backupify for Google Apps, Backupify for Salesforce and Backupify for the personal apps like Facebook and Twitter posts and images. The free version is limited to 3 services, 1G of storage and weekly backup. Trusted by PC Magazine, MoMA (Museum of Modern Art), tumblr. and Vermont's Burlington College.
7) You want it in what file format?
It may not happen often, but sooner or later you'll come across a colleague, service provider, client or business prospect that wants information in a format you're not familiar with or don't use. Finding the right all purpose tool to convert your file(s) doesn't come easy, and you could spend a fair amount of time searching for one.
The problem is solved with an unassuming tool called Zamzar, which works with a wide variety of document, image, music, video, e-book, compressed and CAD formats. You upload your file(s) from your computer or a URL, select the format you need, and they send you an email with your conversion. This 100% free business app is bound to come in handy when you need it.
8)

You've got Skype, they've got AIM. Now what?
Now there's a good question that deserves an answer. Personally, I've always thought having a chat platform that works with all the major players would be ideal. Fortunately, I'm no longer talking to myself about this.
imo instant messenger has come to the rescue. It no longer matters if the person on the other end is using MSN, Skype, Facebook Chat, GTalk, Yahoo, Steam, VKontakte, Jabber, AIM or ICQ. This business app works with all of them. You can group chat, search your chat history and even send short voice messages instead of typing. It's also available for mobile. Time Magazine called imo im one of the 50 best sites of 2012. You'll probably think so too.
What great business apps have you found helpful?
Written by [googleplusauthor]