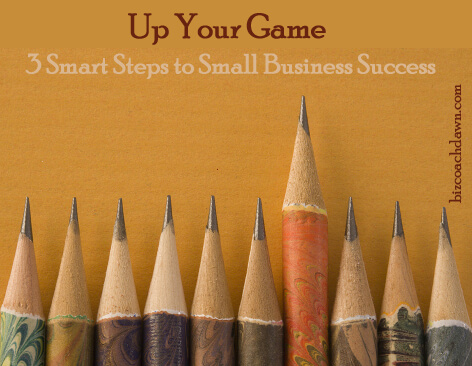 Small business success is largely about planning. But it's also a function of perspective – about your customer, your knowledge gaps, and your market.
You build the foundation for your success as you gain mastery of these three areas, which is what allows you to up your game. The steps are pretty straightforward, if you examine them in bite sized pieces.
Walk in Your Customer's Shoes
Anyone who visits your website wants to know more about you and what your business has to offer. That's a given. But beyond that, today's customer is interested in how you 'quack', your perspective on things, and whether you're someone they should connect with and trust.
We depend on our website (and not just our blog) to represent us in 'now' mode. To show the human side of our business, as we are today. That's a tall order for a website, especially if our main content is as fresh as the day we wrote it years ago.
That was way back then. Before you learned as much as you know now, before you found your online voice and before you really knew what you were doing. Times have changed. You've probably changed. And your website should too.
Walking in your customer's shoes will give you a different perspective. So take a leisurely stroll through your site, looking at it from their point of view.
What's the message? What is it asking or expecting me to do? Do I clearly understand what this person or small business does? Does this site/person sound or feel stiff? Is the site visually appealing? Am I being engaged, or just being talked to? Is it interesting enough for me to return or bother connecting on social media?
You get the idea. Take a second look at your online home. Make sure it's really saying what you want it to say, doing what you want it to do, and creating the atmosphere you want to associate with your business brand.
When you, thinking like your customer who is tuned into station WIIFM (what's in it for me), feel like you came to just the right place, then you probably have 🙂
Get the Help you Need
To become wildly successful in business, you have to learn a good many things that you weren't taught in school. Most people who venture out on their own didn't grow up around a successful business owner or mentor who could teach them the ropes. Even if you were lucky that way, what applied then and what's needed now are two very different things.
It's a bear trying to keep up with social and now mobile media. It seems like there's a boatload of new information to learn every day, and sometimes it's downright exhausting. But to excel, you have to keep going, and find ways to work smarter instead of harder.
Ask yourself three simple questions:
What do I need to know?
What do I need to do?
Who can give me the best insight on how to get that done?
For example, if Twitter is an important platform for you, but you don't know how to use it to your advantage, talk with someone who knows it inside out.
If Facebook has you stumped, find a Facebook expert or join a Facebook group that can bring you up to speed and support you on your way. Need help getting organized or managing your time? Find a pro. Need to create a master strategy for your business? Hire a success coach.
Source out your social media connections – chances are you're already in the company of people who are expert in the area where you're less experienced. Don't be afraid or embarrassed to say 'I need your help with XYZ' whatever that is. Be clear, honest and up front about it.
Remember that everyone's time has value, so be sure to respect theirs. Ask them whether they can help, if they're willing to help, and when they might have the time.
Ask about rates. If they're higher than you expected, see if they're comfortable being flexible with their pricing, or willing to barter to offset a portion of the cost. You might be pleasantly surprised at how well an arrangement like that can work.
If they agree, and you come to an arrangement, be prepared to follow through immediately. Don't waste their time if you're not really ready to accept the help you asked for. You'll ruin the relationship and greatly reduce your chances of getting help from them in the future.
If their advice helps you in your business, find a way to celebrate your win together. You know that great feeling you get when someone unexpectedly acknowledges you? Be the person sending that awesome message – say 'thank you' in a unique way to show your gratitude.
Clarify your Marketing Strategy
When you're running a business, creating new customers is your top priority. In this day and age, that means you have to be visible, out and about, spreading the word (in a nice way) about who you are and what you do.
The long and short of it is that small business owners need a strategy for reaching prospects online, offline and in the mobile space.
Figure out which social platforms are working best for your business. Try and focus your main efforts on a maximum of three. Schedule your posts in advance so you're not rushing. That way when you participate 'live', you're fully present. Grab attention when the time is right with contests, giveaways, Facebook ads, LinkedIn group promos, Pin it to Win It events, etc.
Have a plan that guarantees you'll connect with people in your offline audience. You live in a community that includes people (probably thousands) for whom your product or service is perfect.
Find out who and where they are. Check out local meetups or networking opportunities that are likely to attract your ideal customers or other professionals who might know them. Sponsor a community project in your business name to spread goodwill.
Take your business mobile, so you don't miss the opportunity to reach that massively growing mobile market. Use mobile coupons and QR codes to promote your offers. Make it easy for people to reach you with Tap-to-Call, Tap-to-Email and GPS directions. Link back to your main site and to your blog RSS feed. Let them see you're on it.
If you walk in your customer's shoes so you know what they want, seek out the help you need to make sure you're on the right track, and put a marketing strategy in place that hits all the bases (online, offline and mobile) you'll be well on your way to a stellar year. Pinky promise!
What's your perspective on creating small business success? Share what your experience has taught you.
Oh, and feel free to Tweet This, or mention it on social media if you found it helpful.
To your business success,
[googleplusauthor]