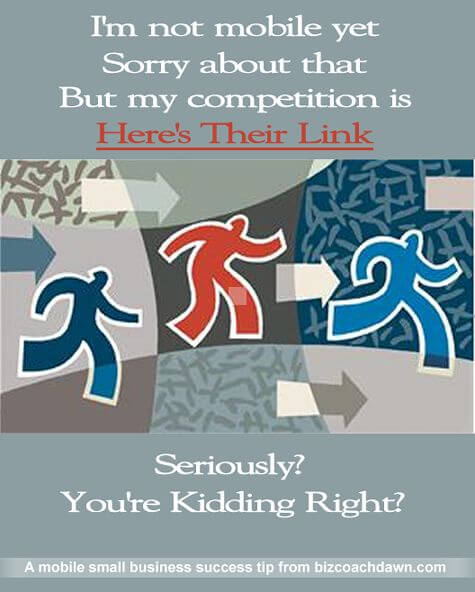 Mobile is the way of the future, and business owners are starting to catch on. Smartphone sales have been going through the roof, and, as of a few weeks ago, they outnumbered sales of other types of mobile phones for the very 1st time (Computerworld)
If you read my last blog post, you already know that by 2014 (at the outside) the use of mobile devices to access the internet will surpass the number of desktop systems being used to jump online. You also learned that 93% of consumers now use their smartphones at home, and not just when they're on the go.
What that means for business is very clear – if you don't establish a mobile presence soon, you might as well put a giant graphic on your homepage that says 'I'm not mobile yet. Sorry about that. But my competition is. Here's their link'. Not exactly what you had in mind? Good. It shouldn't be.
So then the real question is how will you take your business mobile? You owe it to yourself to do enough research to find out what's involved and what's required: Do you just duplicate your current website and put it on a mobile platform? Do you need something entirely new that will take a long time and a lot of money to build? Is it necessary to buy a mobile domain and pay for mobile hosting? What's your next move exactly? The list goes on.
Getting the Right Perspective on Mobile Websites
Mobile websites are designed for rapid response, because mobile visitors expect immediate access to important information about your business – like who you are, what you do, where you're located, and how to reach you. The focus is on 'just the facts, thanks' as opposed to 'I want to know everything about you'.
Think about a mobile website in the same way you experience a new book on Amazon, where you 'click to look inside' to get enough of a feel for the content, to decide whether you want to buy it or not. Or like watching the trailer for a movie, compared to seeing the whole film in a theater.
Remember that the screen on a mobile device is small, and that your mobile visitors have a different objective from your desktop or tablet users. Content is minimal compared to a standard site or blog, and it's intentionally different.
The goal of a mobile site is to create easy and instant engagement with mobile customers. Its value is in its ability to market your business in very direct ways, so that people understand what you have to offer as soon as they land on your mobile homepage.
 What can you do with a mobile website?
The simple answer is guarantee that your business gets seen by any potential customer with a mobile device, including those in your local area. You can run text–to-win campaigns, featured promotions, mobile sales, giveaways and push notifications, just to name a few opportunities.
And you can do it all without interfering with your regular desktop site, having to buy a .Mobi domain, paying for additional mobile hosting, or (in most cases) worrying about plugin conflicts affecting your blog. Depending on your level of skill and time availability, you can put a mobile site together yourself, or pay someone to do it for you.
The features you'll have available will vary, depending on the site creation tool being used , and whether it is a standalone mobile site, or one designed for a specific platform like WordPress.
Minimally, a mobile site will be smartphone/iPad/iPod touch compatible, have a choice of themes, backgrounds and colors, offer multiple menus, pages and social connection options, handle different forms of media (like videos and animations), allow for tap-to-call and tap-to-email, and provide multi-language support.
More robust mobile marketing websites offer additional features like interactive maps and directions, social calls to action (Like us on Facebook), opt-in and lead capture forms, image galleries, discount coupons, support for custom backgrounds, logos and images, slideshows, Google Analytics integration, and SEO optimization.
Dedicated mobile marketing websites also lend themselves to customized apps specifically created for business. These include things like mobile text messaging, food ordering, mobile shopping carts, loyalty programs, mobile reservations, QR codes, advanced social network and mailing list integrations, campaign monitoring and so on.
In other words, you can do a lot to create and engage more customers than you have now.
The most important thing you need to consider when taking your business mobile
This may sound like a contradiction, but when you've heard and read enough about why your business should go mobile, hit the PAUSE button, because the next decision you make will have a direct impact on how well and how easily you'll be able to connect with your mobile audience in the future. When it comes to mobile, you have to think in terms of 'down the road'.
Down the road, you'll want the flexibility to pump up the volume with mobile customers, so they are enticed to buy what you're selling right away, and eager to become part of your community. To put it another way, you want to build a mobile site that's scalable to your growing needs, so you're not paying through the nose later on to add more bells and whistles.
Like many other situations in life, it's better to have and not need, than to need and not have. Do your homework, be prepared with information you need to make an informed decision, and get started. There's precious little time to waste, if you plan to get the edge on your competition. And believe me, they're thinking about mobile right now, just like you are

.
Did you find this post helpful? Please share it on Twitter or any of the other social platforms below. Of course, your comments and feedback are always welcome.
Until next time!

Brought to you by Dawn Lanier

Pin It